V3 travel info
travel information
getting to Ghent (from Brussels National Airport or a Brussels train station)
Take a train to Ghent St-Pieters station. For information about train time tables, click here.
getting to the IBIS hotel from the train station (St-Pieters): 20 minutes
Take  tram #1 in the direction of Gent Flanders Expo (goes every 6 minutes). Tram #1 can be taken when you exit the train station's main entrance and you go to the left; the stop is just in front of the main bus station. Get off in fron of the IBIS hotel (on your left). (Please ignore the walking part of Google's directions on the map.)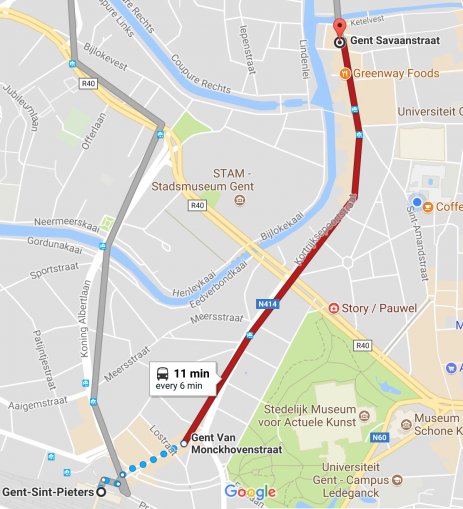 More information on how to get there: www.delijn.be (in Dutch), or more specifically, http://reisinfo.delijn.be/reisinfo/.  Fill in "Gent" in the first gap of the Vertrek frame and click on 'station'. Then fill in "Station Gent Sint Pieters" in the second gap. In the Aankomst frame fill in "Gent" again in the first gap and leave it specified on 'adres'. Then type "Onderbergen" and "1" and click on Bereken uw route.
There is a good bus and tram network throughout the city (see www.delijn.be). A single ticket costs 3 euros if you buy them on the bus (you cannot buy them on the tram), but you can also buy your ticket in advance at the train station. A ticket valid for 10 rides is 14 euros and thus 50% cheaper than buying single tickets.  You will find the ticket vending machines outside the station. For a map of the tram and bus platforms, click here.
Ghent is pretty manageable on foot as well, however. All hotels suggested on this website are in the center of town, as is the conference venue. For a map of the city, click here (or many other websites).